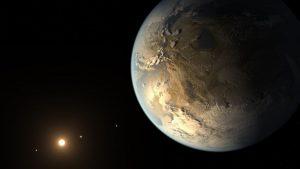 Astronomers have discovered an identical twin of Jupiter dubbed as K2-2016-BLG-0005Lb, Which has a similar mass and is at a similar location (420 million miles away) from its star as Jupiter is from our Sun (462 million miles away). The study has been published as a preprint on ArXiv.org and submitted to the journal Monthly Notices of the Royal Astronomical Society.
Buy Prime Test Series for all Banking, SSC, Insurance & other exams
Key points:
The exoplanet is about 17,000 light-years from the Earth, and it was first detected by the Kepler space telescope in 2016.
To spot the planet, scientists used Albert Einstein's Theory of Relativity and Gravitational Microlensing.
K2-2016-BLG-0005Lb is "the first bound microlensing exoplanet to be discovered from space-based data.