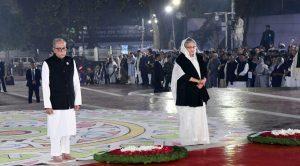 Bangladesh has observed the "Shaheed Dibash" which is also known as 'Amar Ekushey'. The day is observed annually to commemorate and to pay tribute to the martyrs of language movement.
President M Abdul Hamid and Prime Minister Sheikh Hasina of Bangladesh commemorated the day by paying tribute to martyrs who lost their lives during Pakistani police firing on 21st of February 1952 in Dhaka.
Bangladesh's Language Movement:
The Bangladesh's Language Movement started in 1948 and it reached to its peak when eight people laid down their lives on February 21, 1952. The movement concluded with the adoption of Bangla as the official language of the then East Pakistan. As a result of the movement, 21st February is observed every year to commemorate the martyrs of the Bangladesh's Language Movement. UNESCO has also adopted a resolution to celebrate 21 February as International Mother Language Day. The resolution and the marking of the day is an honour bestowed by the international community on the Language Movement of Bangladesh.