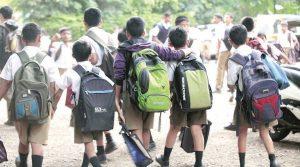 The Bihar government is set to introduce a "no-bag day" rule in schools and a mandatory games period at least once a week to reduce the burden on students. The weekly "no-bag day" will have task-based practical classes. At least once a week, students will come to school only with their lunch boxes. They do not need to carry books. The day will be devoted to practical and experiential learning. The objective of such a policy is to engage students in various activities which can positively impact their learning.
Bank Maha Pack includes Live Batches, Test Series, Video Lectures & eBooks
About the schemes:
School authorities must prepare a curriculum for such activities. This step will certainly bring positive changes among students, which will also improve their learning ability. Encouraged by the impressive performance of our students in regional, national and international sporting events, we will introduce a mandatory games period in schools.
The initiative is in line with the National Education Policy 2020 and will be implemented in both state-run and private schools. The government will accordingly prepare them for the state, national and international sporting events.
Key points:
Players of the state, according to their position at the national-level sporting events, are provided with a subsidiary grant to avail the facility of sports kits, and treatment and enrolment in the course of the National Institute of Sports.
Adding Rs 21.02 lakh was provided as a subsidiary grant to 70 players in 2020-21 Sportspersons from Bihar won six medals in the recently concluded World Championship of Arnis Games in the Philippines.