In a recent fund manager survey (FMS) conducted by Bank of America (BofA), Japan and India emerged as the most favored markets in the Asia Pacific region. The survey revealed that Japan holds the top position with a net 45 percent overweight, followed by India at 25 percent. In contrast, Thailand, China, and Australia are perceived as less attractive, with net underweight figures of 13 percent, 9 percent, and 9 percent, respectively.
Investor Sentiments and Global Trends
According to BofA's equity strategist, Ritesh Samadhiya, global investors are displaying caution in response to macroeconomic factors but have turned bullish on interest rates. The investor playbook for 2024 seems to revolve around expectations of a soft landing, lower rates, a weaker US dollar, and increased interest in large-cap technology stocks. Many investors are considering averaging positions in China and employing leverage.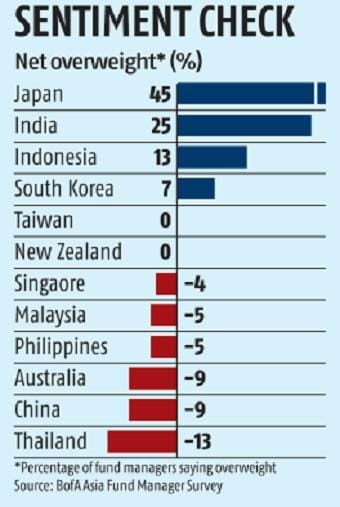 Shifts in Portfolio Allocations
The survey indicates a reduction in cash holdings among fund managers, dropping from 5.3 percent to 4.7 percent—the lowest level in two years. Moreover, fund managers have moved toward the largest bond overweight since March 2009, signaling a shift in portfolio allocations.
Global Central Banks and Economic Outlook
While global central banks may be easing off their peak hawkishness, the survey suggests that the impact of synchronized monetary tightening remains significant. The global FMS reflects a cautious outlook, with 57 percent of participants anticipating a weaker global economy in the next 12 months. In contrast, the Asia FMS presents a more optimistic view, with a net 24 percent expecting a strengthening of the Asia Pacific ex-Japan economy. This positive sentiment is attributed to expectations of a potential easing cycle prompted by weak data.
Return Expectations and Market Outlook
Investors participating in the survey are pinning hopes on double-digit returns, with optimism grounded in fundamental factors. The survey underscores the contrast between global concerns and a more positive outlook for the Asia Pacific region, with return expectations rebounding above long-term averages. The overall sentiment suggests a complex landscape where economic conditions, interest rates, and regional dynamics play pivotal roles in shaping investment strategies.

Find More Ranks and Reports Here