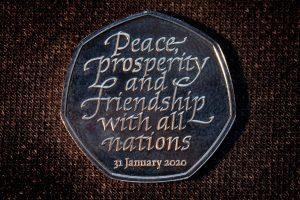 Britain has unveiled a new 50 pence coin minted to mark Brexit (British exit). Brexit is the withdrawal of the United Kingdom (UK) from the European Union (EU). Britain will leave the EU at 2300 GMT on January 31st. The coin bears the inscription "Peace, prosperity and friendship with all nations". Finance Minister of Britain Sajid Javid, who is also Master of the Mint, was presented with the first batch of coins.
Important takeaways for all competitive exams:
Prime minister of United Kingdom: 

Boris Johnson.

Capital of the United Kingdom: London.