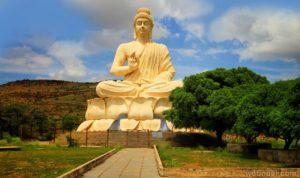 Buddha Purnima 2022
This year Vesak Day or Buddha Purnima has celebrated on 16 May 2022. "Vesak", the Day of the Full Moon in the month of May, is the most sacred day to millions of Buddhists around the world. It was on the Day of Vesak two and a half millennia ago, in the year 623 B.C., that the Gautama Buddha was born. It was also on the Day of Vesak that the Buddha attained enlightenment, and it was on the Day of Vesak that the Buddha in his eightieth year passed away.
Buy Prime Test Series for all Banking, SSC, Insurance & other exams
The birth of Gautama Buddha is commemorated by Buddhists and Hindus all over the world as the major festival of Buddha Purnima in countries like India, Nepal, Bhutan, Burma, Thailand, Tibet, China, Korea, Laos, Vietnam, Mongolia, Cambodia, Singapore, Indonesia and Sri Lanka (where it is called Vesak) but every country celebrates it differently.
The teachings of the Gautama Buddha:
The teachings of the Buddha, and his message of compassion and peace and goodwill have moved millions. Millions around the world follow the teachings of the Buddha and on the Day of Vesak commemorate the birth, the attainment of enlightenment and the passing away of the Buddha.
Peace, understanding and a vision of humanity that supersedes national and other international differences are essential if we are to cope with the complexities of the nuclear age.
This philosophy lies at the heart of the Charter of the United Nations and should be prominent in all our thinking, especially during this International Year of Peace"–Javier Perez de Cuellar.