Imphal, the capital of Manipur, is a place that encapsulates the rich cultural heritage and historical significance of this northeastern Indian state. Situated in the Manipur River Valley at an elevation of 2,500 feet (760 meters), Imphal has a history that predates the arrival of British rule and boasts a tapestry as vibrant as the region's natural beauty. This article explores the historical, cultural and economic aspects of Imphal, showcasing its importance as the heart of Manipur.
Capital of Manipur – History
Imphal's history is of great significance. It was the royal seat of the Kings of Manipur and their legacy is still evident in the city's architecture and traditions. The city played a pivotal role in the Second World War when, in 1944, it witnessed a critical battle between Anglo-Indian forces and the Japanese on the Burmese front. This battle was significant in the larger context of the war and Imphal's contribution is a matter of pride for the city and the nation.
Capital of Manipur – Cultural Heritage
The rich cultural heritage of Imphal is celebrated through various art forms, including dance, music and crafts. Manipuri dance, with its graceful movements and colorful costumes, is a well-known cultural export from this region. The city's cultural tapestry is further adorned with traditional handwoven textiles, exquisite brass-ware and other cottage industries. Imphal's markets are a treasure trove of these handicrafts and visitors can experience the craftsmanship and artistry of the local artisans.
Capital of Manipur – Education
Imphal, the capital of Manipur, is not just a cultural hub but also an educational center. It houses several educational institutions, including Imphal College, Imphal Training Centre and Dhana Manjari College and a technical school, fostering the intellectual growth of the region.
An Overview of Manipur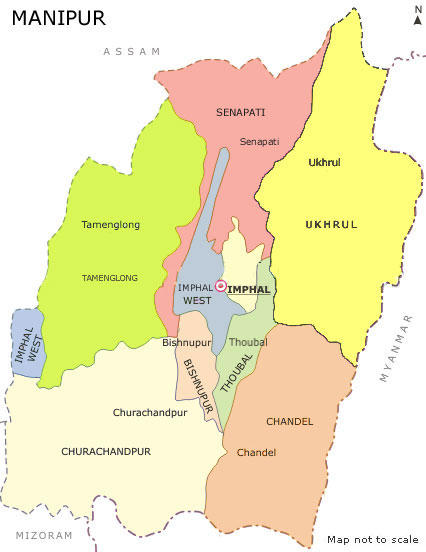 Manipur shares its borders with the Indian states of Mizoram, Assam and Nagaland, while also having an international boundary with Myanmar.
The economy of Manipur is primarily reliant on agriculture, with a substantial focus on rice cultivation. The state also holds significant potential for hydroelectric power generation.
Manipur is home to a diverse population, with the Kuki/Zomi tribes and Naga tribes making up a considerable portion. However, the majority of the population consists of the Meitei people, who account for approximately 53% of the state's inhabitants.
The state language of Manipur is Manipuri, but various Sino-Tibetan languages are spoken across the region. Manipur has a long history of cultural and economic exchanges, making it a melting pot of Asian cultures.
Manipur's natural beauty is exemplified by Loktak Lake, the largest freshwater lake in the state. The region also boasts four major river basins, including the Manipuri river basin, Barak river basin and Lanye river basin.
Rice is the staple food in Manipur, but the state is also known for the cultivation of crops like cardamon, coffee, tea, rubber and oranges.
Find More General Studies News Here