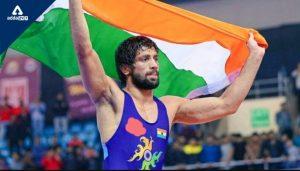 Ravi Kumar Dahiya has created history at Commonwealth Games 2022 by winning Gold for the country in Men's Freestyle 57kg Wrestling. Ravi defeated Ebikewenimo Welson of Nigeria 10-0 in the final to win his maiden Commonwealth Games gold. The match lasted two minutes and 16 seconds. Dahiya was extremely dominant in the first period and did not let his opponent score.
Commonwealth Games 2022 Medal Tally
About the Ravi Kumar Dahiya:
Ravi was born on 12 December 1997 and hailed from the village Nahri in Sonipat district, Haryana. Ravi Kumar Dahiya, also known as Ravi Kumar, is an Indian freestyle wrestler who won a silver medal at the 2020 Tokyo Olympics in the 57 kg category. Dahiya is also a bronze medallist from the 2019 World Wrestling Championships and a three-time Asian champion.
The career of Ravi Kumar Dahiya:
Dahiya started wrestling in his early teens and won the silver medal in the 2015 Junior World Wrestling Championships at Salvador de Bahia in the 55 kg freestyle category.
He picked up an injury in 2017 which kept him out of action for more than a year.
In his comeback year, he won the silver medal at the 2018 World U23 Wrestling Championship in Bucharest, India's only medal at the competition, in the 57 kg category.
Dahiya remained unbeaten at the 2019 Pro Wrestling League, representing the title-winning team, Haryana Hammers.