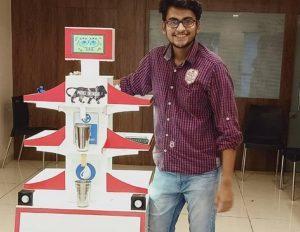 A robot named as 'Coro-bot' has been developed by an engineer from Thane district of Maharashtra, in order to reduce the physical contact of care-givers with COVID-19 patients. Instrumentation Engineer, Pratik Tirodkar developed the 'Coro-bot' to cut away the requirement of physical contact of nurses and ward boys with the patient as they confronts a great risk while working in the COVID-19 hospitals.
Click Here To Get Test Series For SBI PO 2020
The robot 'Coro-bot' will be operated by a special app from any location in the world based on the idea of Internet of Things (IoT). This robot can provide various services such as delivering food, water and medicines to the patients suffering from COVID-19, without any necessity of physical presence of nurses as well as other care-givers. Impressed by its performance, Thane Guardian Minister Eknath Shinde has indicated to deploy Coro-bot in over a dozen government and private hospitals of the district.