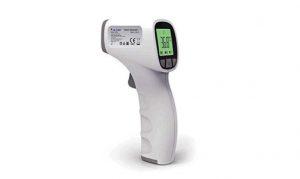 CSIR-National Chemical Laboratory (NCL) Pune, Maharashtra has designed and developed Digital IR Thermometer and Oxygen Enrichment Unit (OEU) to assist within the mitigation of the Coronavirus outbreak. To speed-up, the project NCL has partnered with Bharat Electronics Ltd, Pune (BEL).
What is Digital IR Thermometer?
Digital Infra-Red (IR) thermometer 
is that the 
primary and important component 
that's 
wont to 
measure Coronavirus infection. It 
is often
charged 
employing a 
mobile 
or power bank as 
an influence 
source.
What is Oxygen Enrichment Unit?
The Oxygen Enrichment Unit 
is that the 
other technology 
that's 
in great demand 
within the 
treatment of COVID-19 patients. 
because the 
lungs of COVID-19 patients get badly affected, the OEU can do the function of a ventilator by increasing the oxygen concentration from 21-22% to 38-40% from the ambient air.
Important takeaways for all competitive exams:
National Chemical Laboratory established: 1950.
National Chemical Laboratory location: Pune, Maharashtra.