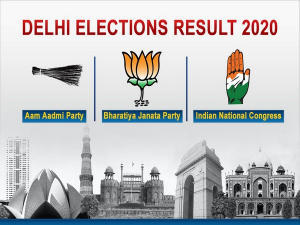 In Delhi Assembly Election, Arvind Kejriwal's Aam Aadmi Party scored a landslide victory. This is the second time in a row as Aam Aadmi Party swept aside both BJP, which was again restricted to a single digit and Congress which could not win a single seat. In the 2015 Assembly Election, the Aam Aadmi Party (AAP) had won 67 seats out of 70. BJP has won eight seats, five more than the 2015 assembly election. However, the party managed to increase its vote share by over 6% from the last elections. 0.5% (approx) voters pressed the NOTA (None of the Above) button.
Aam Aadmi Party's Sanjeev Jha records the biggest victory margin of over 88,000 votes from Burari Assembly/Vidhan Sabha seat. Delhi CM Arvind Kejriwal won the elections from New Delhi while Deputy Chief Minister Manish Sisodia from Patparganj Assembly/Vidhan Sabha seat.
Mr. Kejriwal thank the people of Delhi for reposing their faith in Aam Aadmi Party for the third time. Delhi Chief Minister Arvind Kejriwal said that "This is the victory of the people who consider me as their son and voted for us". He said, "This is the beginning of a new kind of politics".
Party wise Vote Share in Delhi Assembly Results in 2020 (in %)
Aam Aadmi Party- 53.57%
Bharatiya Janata Party- 38.51%
Indian National Congress- 4.26%
Janata Dal (United)- 0.91%
Bahujan Samaj Party- 0.71%
None of the above (NOTA)- 0.46%
Lok Janshakti Party- 0.35%
Communist Party of India- 0.02%
Nationalist Congress Party- 0.02%
Communist Party of India (Marxist)- 0.01%
Chief of Aam Aadmi Party (AAP) Arvind Kejriwal to take oath as the Chief Minister of Delhi on 16 February in Ramlila Maidan, New Delhi.