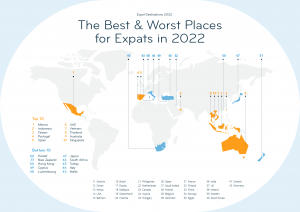 Mexico has topped the Expat Insider Rankings for 2022, which was released by the InterNations recently, while India has been ranked on 36th position out of the 52 countries on the list, with a high affordability score. Kuwait is the worst country for expats in the ranking.
Buy Prime Test Series for all Banking, SSC, Insurance & other exams
The best and the worst
Top 10: Mexico, Indonesia, Taiwan, Portugal, Spain, UAE, Vietnam, Thailand, Australia, Singapore.
11 to 20: Estonia, Oman, Kenya, USA, Bahrain, Brazil, Russia, Malaysia, Switzerland, Czechia.
21 to 30: Philippines, Netherlands, Canada, Austria, Hungary, Qatar, Saudi Arabia, Poland, Belgium, Denmark.
31 to 40: France, Finland, China, Norway, Egypt, India, UK, Ireland, Sweden, South Korea.
41 to 52: Greece, Germany, Malta, Italy, Turkey, South Africa, Japan, Luxembourg, Cyprus, Hong Kong, New Zealand, Kuwait.
About the Expat Insider Rankings:
The Expat Insider survey is conducted every year by InterNations, a community for expatriates.
The survey takes a look at some of the best possible ex-pat destinations around the world, which offer the best quality of life to the people who move abroad to improve their quality of life.
The Expat Insider 2022 survey report surveyed 11,970 respondents to evaluate their life abroad. These respondents represented 177 nationalities and lived in 181 countries or territories worldwide.
A total of 52 countries have been ranked on the list.