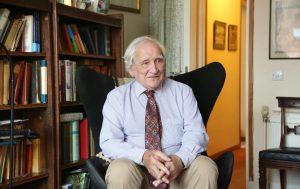 Sir David Butler, dubbed the "father of election science", has died at the age of 98. He was born on the 17th of October 1924, Butler became a diligent student of philosophy, politics, and economics at New College, Oxford. His studies were disrupted when he was commissioned as a lieutenant to serve in the Second World War. Butler developed upon a long­forgotten Edwardian equation called "the cube rule" for his research on elections as an undergraduate. He discovered that he was able to estimate the total number of seats won from the polling numbers, enabling him to forecast the seats likely to be won by any party based on opinion polls.
Bank Maha Pack includes Live Batches, Test Series, Video Lectures & eBooks
For the 1950 election, aged just 25, he was the in­house analyst on the BBC's first ever TV election results programme, a job he retained until the 1979 election. Moreover, Butler gained recognition for his work on the swing concept—the percentage of votes that switch from one party to another between elections. In 1955, he introduced the swingometer to the BBC's election night broadcast, which went on to become a staple of election coverage all over the world.