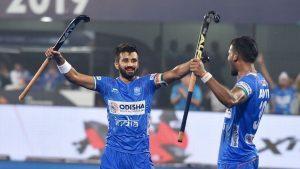 The International Hockey Federation (FIH) has awarded Indian men's hockey team captain & midfielder Manpreet Singh with "Player of the Year for 2019" award. India's another midfielder Vivek Sagar Prasad has also won the "FIH Male Rising Star of the Year" award.
Manpreet Singh has become the first Indian to win the "Player of the Year for 2019" award since its inception in 1999. Manpreet Singh recieved a total of 35.2% of the combined votes from media, fans, National Associations and players. He defeated Belgium's hockey player Arthur van Dorren who recieved share of 19.7% votes and Lucas Villa of Argentina, to win the award.
Manpreet Singh made his debut in 2011 and has enjoyed a long career in the Indian National Team having 260 international appearances under his belt. He has also represented India at 2012 London and 2016 Rio Olympics.
Important takeaways for all competitive exams:
Chief executive Officer of International Hockey Federation (FIH): Thierry Weil.
President of Hockey India: Mohd Mushtaque Ahmad