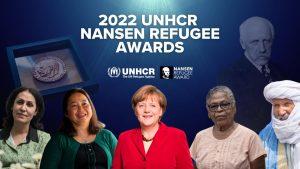 Former German chancellor Angela Merkel won the United Nations High Commissioner for Refugees (UNHCR) prestigious Nansen award for her "leadership, courage and compassion" in ensuring the protection of hundreds of thousands of desperate people at the height of the Syria crisis. Dr. Angela Merkel is the 2022 Nansen Award global laureate for her political courage, compassion and decisive action as Federal Chancellor of Germany to protect people forced to flee.
Bank Maha Pack includes Live Batches, Test Series, Video Lectures & eBooks
Notably:
The year 2022 marked a century (100 years) since Fridtjof Nansen was awarded the Nobel Peace Prize in 1922. It is also 100 years since the creation of the Nansen passport, an identity document for refugees that enabled its holders to move across borders in search of work.
The UNHCR Nansen Refugee Award selection committee also honoured four regional winners for 2022:
The Nansen Award 2022 regional winner for Africa was given to The Mbera Fire Brigade, an all-volunteer firefighting group in Mauritania led by Ahmedou Ag Albohary.
The award for the Americas went to Vicenta González, a women's rights advocate and activist whose cacao cooperative in Costa Rica empowers local and asylum-seeking women.
Meikswe Myanmar, a humanitarian organization that assists communities in need, including internally displaced people was announced as the regional winner for Asia and the Pacific and the regional winner for the Middle East and North Africa was given to Dr.
Nagham Hasan, a gynaecologist from Iraq who helps fellow Yazidi women who were forced into slavery by ISIS to recover from their trauma.
About UNHCR Nansen Refugee Award:
It is the annual award established in 1954, named after the Norwegian explorer, scientist, diplomat and humanitarian Fridtjof Nansen.
Fridtjof Nansen was the first High Commissioner for Refugees. He was awarded the 1922 Nobel Peace Prize for his efforts to repatriate prisoners of war and to protect millions of refugees of the Romanov, Ottoman and Austro-Hungarian Empires.
The award is given to an individual, group or organization who has gone above and beyond the call of duty to protect refugees, internally displaced or stateless people.