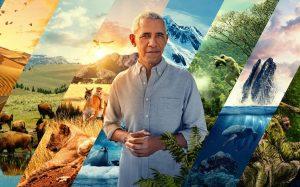 The former President of the United States Barack Obama won Emmy Award for his narration in the Netflix documentary "Our Great National Parks". Obama already has two Grammys and is now halfway to an EGOT- the achievement of having won all four of the major American entertainment awards i.e. an Emmy, a Grammy, an Oscar, and a Tony.
Bank Maha Pack includes Live Batches, Test Series, Video Lectures & eBooks
The five-part Netflix documentary produced by "Higher Ground" productions, Barack and Michelle Obama's production company, features national parks from across the globe. Barack Obama has previously received Grammy Awards for the audiobook readings of his memoirs "The Audacity of Hope" and "A Promised Land." Michelle Obama received her own Grammy in 2020 for reading her audiobook. Obama was the biggest name in a category that was full of celebrity nominees including Kareem Abdul-Jabbar, David Attenborough and Lupita Nyong'o.