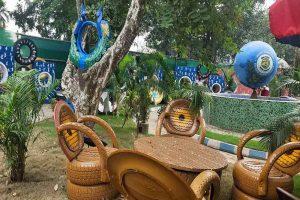 India has put forward a proposal to construct a G20 park in Delhi that will serve as a representation of global unity on the path of development. According to sources, PM Modi has been closely monitoring the park's concept development. The park, which will be located at the Shanti Path and Ring Road junction, will be based on the theme of "One Earth, One Family, One Future." The sculptures in the park will depict the national animals and birds of the G20 countries and will be created using the "waste to wonder" concept. Each sculpture will be made from scrap and other waste materials sourced from the New Delhi Municipal Council's yards and other agencies. Lalit Kala Academy will be responsible for promoting and creating the artwork projects. The metal art pieces used in each sculpture will have dimensions of 5-7 feet by 4-5 feet.
Buy Prime Test Series for all Banking, SSC, Insurance & other exams
According to officials, the idea of a G20 park enhances Delhi's identity as a city that values art and culture. Artists from various Indian states, including Delhi, Madhya Pradesh, Andhra Pradesh, Kerala, Odisha, Haryana, West Bengal, Tamil Nadu, Bihar, Gujarat, Karnataka, and Chhattisgarh, are currently working on creating national birds and animals of different G20 countries. These include the Indian peacock, Brazilian jaguar, American bison, Chinese red-crowned crane, Saudi Arabian camel, Korean magpie, Australian emu, Canadian gray jay, Russian brown bear, and Mexican golden eagle. The artwork projects are part of the Waste to Wonder Art Camp.
A team of well-known national-level artists with experience in waste-to-wonder projects has conceptualized, designed, and curated the art pieces for the G20 park. Each piece will be carefully crafted by hand and given a high-quality finish to demonstrate that waste can be transformed into something remarkable. To prevent theft or damage, each piece will be securely installed on a base platform. An information plate will be placed next to each piece, detailing the animal, its appearance in real life, and its significance to the country it represents. The details of the artists involved in creating the piece will also be displayed.
About the G20:
The G20 comprises 19 countries—Argentina, Australia, Brazil, Canada, China, France, Germany, India, Indonesia, Italy, Japan, the Republic of Korea, Mexico, Russia, Saudi Arabia, South Africa, Türkiye, the United Kingdom, and the United States—as well as the European Union. The G20 members represent around 85% of the global GDP, over 75% of the global trade, and about two-thirds of the world population.
You may also read this:
PM Modi to flag off India's first Water Metro in Kochi