At least seven people have lost their lives, and a significant number remain injured or missing in the wake of flash floods that struck Sikkim on October 4. These devastating floods were triggered when a glacial lake, formed by the gradual melting of a Himalayan glacier, unexpectedly overflowed, leading to the inundation of the Teesta river basin.
This catastrophic event resulted in the destruction of the Chungthang dam, a critical component of Sikkim's largest hydroelectric project, and caused extensive damage to highways, villages, and towns.
I. The Tragedy Unfolds
Flash floods hit Sikkim on October 4, resulting in seven casualties and numerous injuries and disappearances.
The floods originated from the sudden overflow of the South Lhonak lake, located at an altitude of approximately 5,200 meters above sea level.
II. South Lhonak Lake Expansion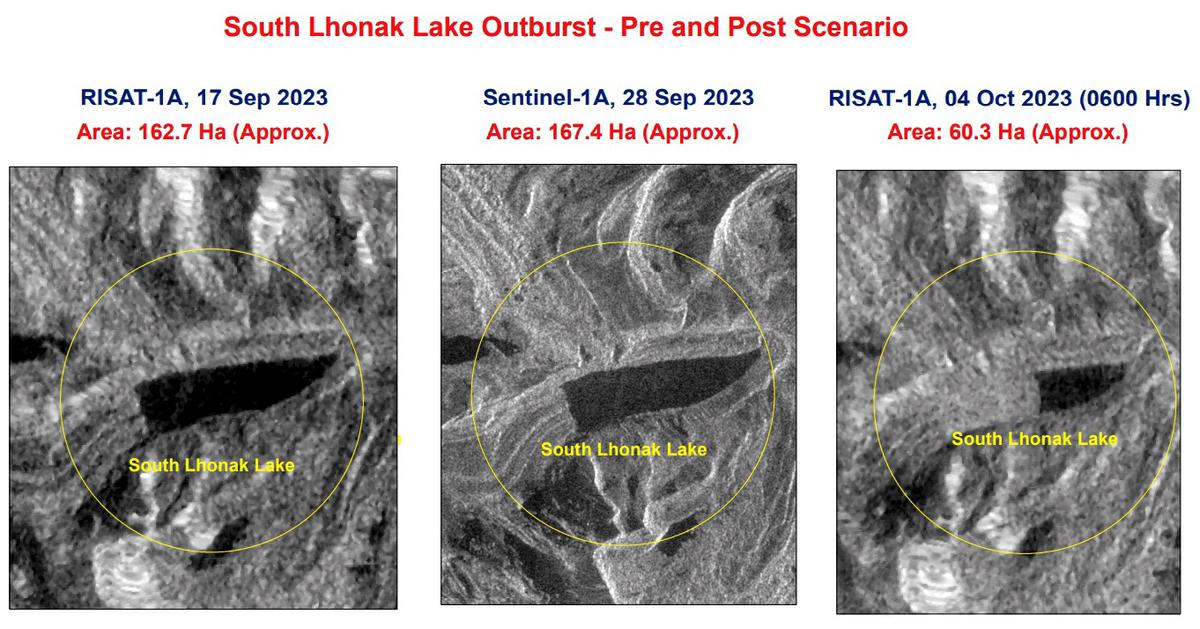 Scientists had previously raised concerns about the expanding South Lhonak lake, which was gradually growing due to the melting of ice at its head.
Nearly half of the lake emptied out, likely due to an avalanche originating from the ice-capped feature.
III. The Chungthang Dam Breach
The Chungthang dam, a concrete-rock structure, was breached at its center due to the force and speed of the surging water, estimated at nearly 54 kilometers per hour.
The suddenness of the event left little time for warnings or preventive measures.
IV. Impact on Teesta 3 Hydropower Project
The Teesta 3 hydropower project, operated by Sikkim Urja and majority-owned by the Sikkim government, was severely affected.
Rising water levels posed a significant threat to the project's operations and infrastructure.
V. Search and Rescue Operations
Over 8,000 cubic meters per second of water was released from the Teesta barrage, causing flood-like situations in downstream districts of West Bengal.
Continuous rain and inclement weather hampered search and rescue efforts, affecting roads and bridges leading to the border.
VI. Warnings from Scientists
Scientists from the Indian Institute of Science (IISc) and the Indian Space Research Organisation (ISRO) had issued warnings about the potential hazards posed by the South Lhonak lake.
Previous studies in 2013 and 2019 highlighted the need for monitoring and early warning systems in areas susceptible to glacial lake outburst floods (GLOFs).
VII. The Broader Issue
GLOFs are a significant concern in regions including Bhutan, Tibet, India, Nepal, and Pakistan, highlighting the broader challenge posed by glacial lakes.
The Himalayan region is home to approximately 7,500 lakes, with nearly 10% of them situated in Sikkim.
VIII. A Grim Reminder
This incident draws parallels with the 2021 deluge caused by an avalanche involving the Nanda Devi glacier in the Himalayas, which flooded the Rishiganga river in Uttarakhand and resulted in the loss of life and damage to hydroelectric power projects.