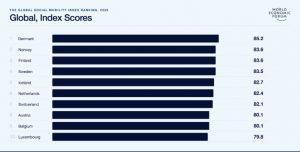 The 1st edition of Global Social Mobility Report 2020 titled "The Global Social Mobility Report 2020: Equality, Opportunity and a New Economic Imperative" released by World Economic Forum. The global social mobility index (GSMI) of 82 countries were launched in this report.
As per the Index, India ranked has 76th position with a score of 42.7, while Denmark topped the list. India is among the 5 countries namely: The United States(US), Japan and Germany, China which stands to gain most from boosting social mobility score.
Social protection and fair wage distribution are the areas in which India needs improvement. It ranks 79th in both social protection and the fair wage distribution. India ranks 41st in lifelong learning while it ranks 53rd in working conditions. It has the second-highest level of workers in vulnerable employment behind Saudi Arabia.
Top 10 Countries in the index:
| S. No. | Category |
| --- | --- |
| 1 | Denmark |
| 2 | Norway |
| 3 | Finland |
| 4 | Sweden |
| 5 | Iceland |
| 6 | Netherlands |
| 7 | Switzerland |
| 8 | Austria |
| 9 | Belgium |
| 10 | Luxembourg |
| 76 | India |
What is social mobility?
Social mobility can be understood as the movement in personal circumstances either "upwards" or "downwards" of an individual in relation to those of their parents. In absolute terms, it is the ability of a child to experience a better life than their parents. On the other hand, relative social mobility is an assessment of the impact of socio-economic background on an individual's outcomes in life. It can be measured against a number of outcomes ranging from health to educational achievement and income.
Important takeaways for all competitive exams:
World Economic Forum Established: January 1971.
Headquarters: Geneva, Switzerland.
Founder & Chairman: Klaus Schwab.
Find More Ranks and Reports Here