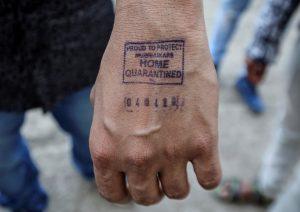 Election Commission of India
has decided
to permit 
usage of
indelible

ink 
on persons for stamping for
home quarantine by health authorities 

insight

of COVID-19.
The
Health Ministry
may standardise the mark 
and therefore the 
location on the body where the mark 
has got to 
be applied 
in the order that
it 
doesn't 
are available 
the way of conducting elections. The authorities shall 
even be 
instructed 
to make sure 
that the 
ink 
shall not be used for 
the other 
purpose.
Important instructions of ECI:
The concerned authorities 

are going to be 

instructed 

to not 

use the 

ink 

on any finger on the

left 

of any persons.
The ink, 

thus far 

used during elections 

and made 

by a Mysore-based company 

just for 

the EC, will now be made available to the states.
The ink mark lasts for over a month.
T

he choice 

has been taken 

publicly 

interest keeping 

in sight 

the demand from states to use an indelible marker on quarantined individuals.
EC has provided safeguards

to make sure 

that the sanctity of the election procedure is maintained.
The ink 

can't be 

used without EC's permission, 

because it 

may be a 

"proprietary item" 

during a 

sense.
Maharashtra has already begun 'stamping' those in 100% quarantine on 

St Patrick's Day

, after 

the number

of cases 

within the 

state spiked.
The date of isolation is stamped on the left palm of the individual with ink 

that might 

last for 14 days.
What is Indelible Ink?
Indelible ink, electoral ink, electoral stain or phosphoric ink is a semi-permanent ink or dye that is applied to the forefinger (usually) of voters during elections in order to prevent electoral fraud such as double voting. It is an effective method for countries where identification documents for citizens are not always standardised or institutionalised. Election ink uses silver nitrate, and excessive exposure can cause argyria. It was first used during the 1962 Indian general election, in Mysore State, now the modern-day state of Karnataka.
Important takeaways for all competitive exams:
Chief Election Commissioner of India: Sunil Arora.