Chandrayaan, meaning "mooncraft" in Sanskrit, represents India's lunar exploration program launched by the Indian Space Research Organisation (ISRO). The Chandrayaan program aims to study the moon's surface, minerals, water ice presence, and enhance India's space capabilities.
Chandrayaan-1 (2008): India's Maiden Lunar Mission
Launched on October 22, 2008, Chandrayaan-1 was India's first lunar probe.
Equipped with 11 scientific instruments, it conducted high-resolution remote sensing of the moon's surface and detected water molecules on the lunar surface.
Made significant contributions to lunar science by mapping various elements and minerals.
Chandrayaan-2 (2019): A Complex Lunar Mission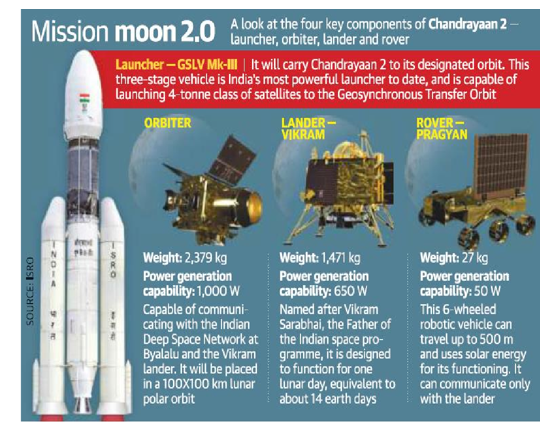 Launched on July 22, 2019, Chandrayaan-2 aimed for a soft landing on the moon's south pole.
Consisted of an orbiter, a lander named Vikram, and a rover named Pragyan.
The orbiter continues to study the moon from orbit, while the lander's soft landing attempt failed due to a last-minute glitch.
Chandrayaan-3 (2023): Learning from Setbacks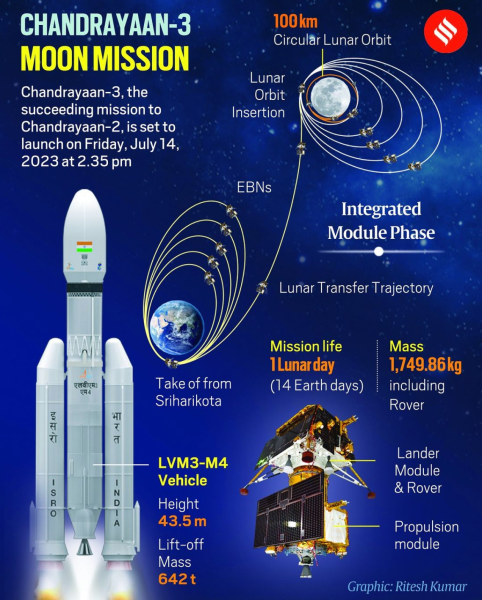 Chandrayaan-3 is India's third lunar mission, designed to address the limitations of Chandrayaan-2.
Aims for a successful soft landing on the lunar surface and rover-based exploration.
Adopts a failure-based design approach, with changes to landing area, lander autonomy, fuel capacity, and structure.
Chandrayaan-3 Payloads:
Propulsion Module: Carries the lander-rover configuration to lunar orbit.
Lander Payloads: Includes RAMBHA, ChaSTE, ILSA, LP for seismic, thermal, atmospheric, and compositional analysis.
Rover Payloads: APXS and LIBS for elemental composition analysis near the landing site.
International Collaborations:
Chandrayaan missions have fostered international collaboration, such as payloads from NASA.
These collaborations enhance the scientific potential of the missions and contribute to global lunar research.
India's Space Ambitions:
Chandrayaan missions showcase India's growing space capabilities and technological advancements.
Successes and setbacks alike contribute to the nation's experience and expertise in space exploration.
Future Lunar Endeavors:
Chandrayaan program is expected to pave the way for more ambitious lunar missions in the future.
India aims to continue expanding its lunar exploration capabilities and contribute to global lunar research efforts.
International Recognition:
Chandrayaan missions have earned India international recognition in the field of space exploration.
They highlight India's commitment to advancing scientific knowledge and space technology.