Chandrayaan-3, India's lunar exploration mission, is set to achieve a critical milestone – a soft landing on the moon's surface. This achievement would make India the only country to successfully accomplish this feat. Let's delve into the significance of a soft landing, the challenges of landing on the moon's south pole, and the intricacies of Chandrayaan-3's landing.
What is a Soft Landing and Why South Pole?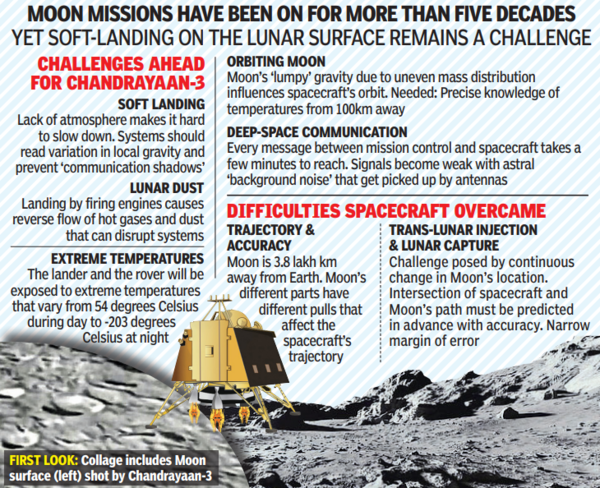 A soft landing involves controlled descent at a gentle speed to prevent spacecraft damage upon landing.
Chandrayaan-3 aims to demonstrate safe and gentle landing, rover mobility, and scientific experiments.
Landing at the moon's south pole is a remarkable challenge, as it showcases a spacecraft's technical prowess.
Previous landings occurred near the equator for better terrain, temperature, sunlight, and energy supply.
Chandrayaan-2's Setback and Changes in Chandrayaan-3:
Chandrayaan-2 faced software and hardware issues during its landing attempt in 2019.
Chandrayaan-3 adopts a failure-based design approach to address the shortcomings.
Changes include stronger landing legs, increased landing area, enhanced fuel capacity, and improved solar panels.
Technical Details of Chandrayaan-3's Landing:
Rough Braking Phase:
Reduce horizontal velocity from 1.68 km/sec at 30 km altitude to nearly zero for soft landing.
Attitude Hold Phase:
At 7.42 km altitude, the lander tilts from horizontal to vertical while covering 3.48 km.
Fine Braking Phase:
Lasts around 175 seconds, moving lander fully into a vertical position.
Descends to 800-1,000 m altitude, nominal speed of 0 m/sec.
This phase is crucial due to Chandrayaan-2's past loss of control during this stage.
Terminal Descent:
Final stage, where the lander descends vertically onto the moon's surface.
After Successful Landing:
Payloads aboard Vikram lander and rover Pragyan remain consistent.
Lander's payloads study lunar quakes, thermal properties, plasma changes, and distance measurement.
Rover's payloads analyze lunar surface's chemical and mineral composition, including elements like magnesium, aluminum, and iron.