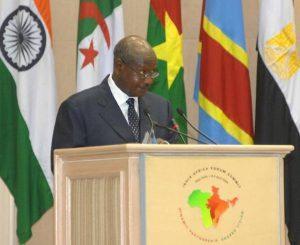 India has handover the war game centre named as "INDIA" to Uganda Peoples Defence Forces (UPDF). The state of the art military training facility was handover by the Indian Association Uganda (IAU), in association with the Indian Military Advisory and Training Team to the UPDF.
Click Here To Get Test Series For SBI PO 2020
Gen. Yoweri Kaguta Museveni, President of the Republic of Uganda inaugurated the war game centre "INDIA" that was conceptualised by the Indian Military Team and built by the IAU in Jinja district, at a cost of over 1 billion Ugandan shillings or $2,65,000. The Ugandans of Indian origin made voluntary contributions for the establishment of war game centre.