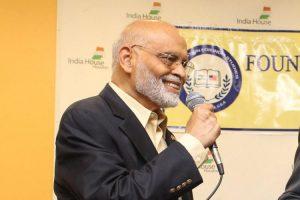 Presidential Lifetime Achievement (PLA) Award:
US President Joe Biden has recognised Indian-American and a longtime Houstonian, Krishna Vavilala, with the Presidential Lifetime Achievement (PLA) Award, the nation's highest honour for his contributions to his community and the country at large. The Presidential Lifetime Achievement (PLA) Awards, led by AmeriCorps, is an annual event held to honour citizens, who exhibit outstanding character, worth ethic, and dedication to their communities.
Buy Prime Test Series for all Banking, SSC, Insurance & other exams
Career of Krishna Vavilala:
Krishna Vavilala is Originally from Andhra Pradesh, Vavilala is a retired Electrical Engineer, and currently, the founder and Chairman of the Foundation for India Studies (FIS), a 16-year-old non-profit organisation, whose signature project "the Indo-American Oral History Project" won the 2019 Mary Fay Barnes Award for Excellence.
Vavilala has also served as a President of the American Society of Indian Engineers, Telugu Cultural Association, Houston and Telugu Literary and Cultural Association.
He has received several awards and accolades from various organisations including the Indo-American Chamber of Commerce of Greater Houston, the Indo-American Press Club and the Lifetime Achievement Award, from the India Culture Centre.
About the AmeriCorps:
AmeriCorps, an agency of the United States government, engages more than five million Americans in service through a variety of volunteer work programmes in many sectors. At a glittering ceremony last week, 86-year-old Vavilala, a Houstonian for the past four decades, was lauded for his lifetime service and achievements by calling him a "Change Maker and Global Humanitarian".
AmeriCorps certifier Dr Sonia R. White presented the official Presidential Award to Vavilala which contained a framed proclamation from the White House, signed by President Biden, and the medallion.