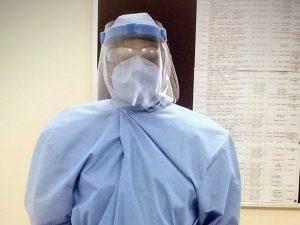 Indian Navy has formed "NavRakshak" PPE kit with innovative breathable fabric material. This PPE kit provides comfort to healthcare workers working against COVID-19 pandemic wearing multi-layered coverall PPE treating patients within the hot and humid condition for quite 12 hours.
Click Here To Get Test Series For SBI PO 2020
The ability of the material to permit water vapour to undergo and stop the water from entering is understood as Breathability. This PPE kit made by Surgeon Lieutenant Commander Arnab Ghosh from Naval Medical Specialist of Innovation Cell, Institute of Naval Medicine in Mumbai.
The comfort properties of the material depend on their ability to transmit the water and vapour from the body and preventing the buildup of liquid on the skin. The PPE passed the Synthetic blood penetration resistance test with 6/6 (Government of India mandates minimum 3/6 and above as per ISO 16603 standard ) pressure certified for mass production and to be used in clinical COVID-19 situations.
Important takeaways for all competitive exams:
Chief of Naval Staff: Admiral Karambir Singh.