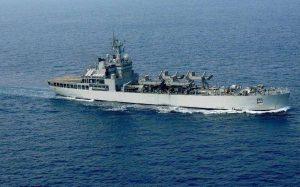 Indian Navy has launched "Operation Vanilla" to provide humanitarian assistance and disaster relief at Madagascar. 'Operation Vanilla' has been launched to provide assistance to the affected population of Madagascar post devastation caused by Cyclone Diane.
According to the Indian Navy "INS Airavat, which was mission deployed has been diverted for the same". The Indian Navy Ship is geared to set up medical camp and provide food, water and other necessary relief material.
The assistance of India to Madagascar is in consonance with the Indian Navy's Foreign Cooperation initiatives in line with the Prime Minister's vision of 'Security and Growth for all in the Region (SAGAR)'. In the Indian Ocean Region, the Indian Navy has been the first responder for Humanitarian and Disaster Relief (HADR).
Important takeaways for all competitive exams:
Chief of Navy Staff (CNS): Karambir Singh.
Indian Navy Day: 4 December.