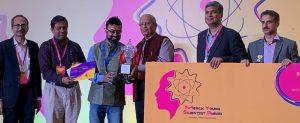 A senior scientist Sakya Singha Sen from National Chemical Laboratory (CSIR-NCL) Pune, has been awarded "Merck Young Scientist Award 2019" for doing remarkable research in chemical science.
Sen and his research team specializes in main group chemistry and involves in the synthesis of compounds with main group element and their catalytic application. All the catalysts currently used mostly belong to precious metals platinum, palladium, iridium etc. These are very expensive and their abundance in the earth is very less.
This award is instituted by Merck, a science and technology company operating worldwide. Merck Young Scientist Award is given to researchers with less than ten years of experience with expertise in solving some of the toughest problems in chemical sciences.
Important takeaways for all competitive exams:
Founder of Merck Company: Friedrich Jacob Merck; Established: 1668.