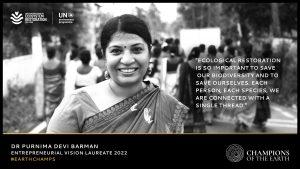 India's Purnima Devi Barman, an Assam-based wildlife biologist, is one of the five 'Champions of the Earth' for this year, the United Nations Environment Programme (UNEP) announced. The annual awards are the highest environmental honour that the UNEP confers on individuals and organisations whose actions have a "transformative impact" on the environment. She has been honoured in the Entrepreneurial Vision category.
Buy Prime Test Series for all Banking, SSC, Insurance & other exams
The other honourees include Arcenciel (Lebanon); Constantino (Tino) Aucca Chutas (Peru); Sir Partha Dasgupta of the United Kingdom and Cecile Bibiane Ndjebet (Cameroon).
About the Purnima Devi Barman:
Barman has been working with local communities – women, specifically – in Assam for more than a decade now to conserve the greater adjutant stork, an endangered wetland bird whose numbers have been declining due to habitat destruction and cutting down of nesting trees. The entire team is "extremely honoured" to win the award.
Barman won the award this year in the 'Entrepreneurial Vision' category, for her trail-blazing work in protecting the greater adjutant stork, called 'hargila' in Assamese. Hargilas are five-foot-tall birds that dwell in wetlands in some parts of southeast Asia including India and Cambodia.
There are only 1,200-odd hargilas remaining in the world, as per a 2016 IUCN Red List update which lists the bird as 'Endangered'. In India, hargilas are found in Assam and Bihar. Assam is home to the largest population – around 1,000 individuals – of these birds, according to Barman.
About the Champions of the Earth award:
UNEP said that since its inception in 2005, the annual Champions of the Earth award has been awarded to trailblazers at the forefront of efforts to protect our natural world. It is the UN's highest environmental honour. To date, the award has recognised 111 laureates: 26 world leaders, 69 individuals and 16 organisations. This year a record 2,200 nominations from around the world were received.