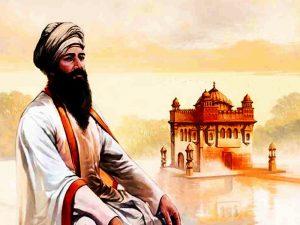 Shaheedi Diwas or Martyrdom Day of 'Guru Tegh Bahadur':
Guru Tegh Bahadur was the ninth Sikh Guru and second Sikh martyr, who sacrificed his life for religion and for the protection of the human rights. The martyrdom day of Guru Tegh Bahadur is celebrated every year on November 24. Guru Tegh Bahadur's Martyrdom Day is also observed as Shaheedi Diwas. He was the father of the tenth Guru, Gobind Singh. It was on 24 November 1675, Guru Tegh Bahadur sacrificed his life for the sake of people who did not even belong to his community. to protect religion, human values, ideals and principles. The sites of his execution and cremation were later converted into Sikh holy places namely Gurudwara Sis Ganj Sahib and Gurudwara Rakab Ganj Sahib in Delhi.
Buy Prime Test Series for all Banking, SSC, Insurance & other exams
About Guru Tegh Bahadur:
Guru Teg Bahadur is also known as Hind Di Chadder– Protector of India. He was born in Amritsar, Punjab, India in 1621 and was the youngest son of Guru Hargobind, the sixth Sikh guru. He became the 9th Guru of Sikhs on 16 April 1664, a position earlier occupied by his grand-nephew, Guru Har Krishan. He had travelled in different parts of the country, including Dhaka and Assam, to preach the teachings of Guru Nanak, the first Sikh guru. Guru Tegh Bahadur was executed on the orders of Mughal Emperor Aurangzeb in Delhi for resisting the forced conversions of Hindus in Kashmir.
Guru Tegh Bahadur's term from 1665 to 1675:
He travelled extensively to preach the teachings of Guru Nanak.
During Aurangzeb's regime, he had resisted forced conversions of non-Muslims to Islam.
In 1675, he was publicly killed on the orders of Mughal emperor Aurangzeb in Delhi.
His works are included in Adi Granth.
In the Guru Granth Sahib, there are one hundred and fifteen hymns of Guru Tegh Bahadur.
Guru Tegh Bahadur is remembered for his selfless service to people. He travelled across the country with the teachings of Guru Nanak – the first Sikh Guru.
Guru Tegh Bahadur had set up community kitchens and wells for the local people wherever he went.
Anandpur Sahib, the famous holy city and a global tourist attraction in the foothills of the Himalayas, was founded by Guru Tegh Bahadur.