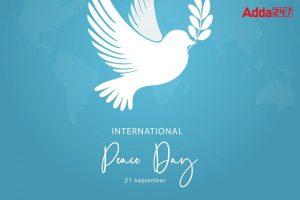 The International Day of Peace is observed globally on September 21. The United National General Assembly marks the day by promoting ideals of peace among nations and people by observing non-violence and ceasefire for 24 hours. This year's theme is "End racism. Build peace." The UN General Assembly has declared this as a day devoted to strengthening the ideals of peace, through observing 24 hours of non-violence and cease-fire.
Bank Maha Pack includes Live Batches, Test Series, Video Lectures & eBooks
What is the symbol of international peace day?
The Peace Bell was donated by the United Nations Association of Japan in 1954. It has become tradition to ring the bell twice a year: on the first day of spring, at the Vernal Equinox, and on 21 September to celebrate the International Day for Peace.
International Day of Peace 2022: History
The International Day of Peace was established in 1981 by the United Nations General Assembly. Two decades later, in 2001, the General Assembly unanimously voted to designate the Day as a period of non-violence and cease-fire. This year's UN page on International Day of Peace highlights the ace-based discrimination at borders.
Important takeaways for all competitive exams:
United Nations Headquarters in New York, USA.
United Nations was founded on 24 October 1945.
Mr Antonio Guterres is the Secretary-General of the United Nations.