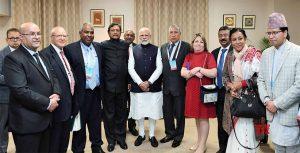 The International Judicial Conference was held in New Delhi. The Conference was addressed by PM Modi. The theme of the conference is "Gender Just World". The topic of the one-day conference is "Judiciary and The Changing World".
The conference discussed the changes made by GoI to bring gender equality including recruitment of women in military service, changes in the selection process of fighter pilots, and the freedom to work at night in the mines. The synergy of artificial intelligence (AI) and human conscience is expected to give further impetus to judicial processes in India. Centre has established National Judicial Data Grid, in order to make court procedures easier.
The Conference also focused on the need for technology to deliver rapid justice. The initiative "E-Court Integrated Mission Mode Project" of GoI, to integrate every court of India with the E-Court system was highlighted.