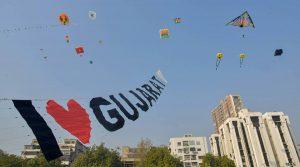 The International Kite Festival 2023
The International Kite Festival 2023 has began on 8 January in Ahmedabad, Gujarat. The festival, which is being organised after a gap of two years, was inaugurated by Chief Minister Bhupendra Patel. The previous edition was held in 2020 with 153 participants from 43 countries. The festival is being organised by Gujarat Tourism on the G20 theme of 'One Earth, One Family, One Future'. Apart from Ahmedabad, the International Kite Festival will also be organised in Surat, Vadodara, Rajkot, Dwarka, Somnath, Dhordo and Kevadia.
Bank Maha Pack includes Live Batches, Test Series, Video Lectures & eBooks
After a gap of 2 years, the sky above the Sabarmati river in Ahmedabad will be decorated with colourful unique kites. More than 800 kite flyers from across India and the world will participate in the festival and display their unique creations. This year kite lovers from different countries will attempt to create a Guinness World Record for the maximum number of kite flyers at the same time.
Notably: The 68 countries participating in the event include Australia, Canada, France, Russia, Germany, Greece, Israel, Egypt, Colombia, Denmark, New Zealand, Indonesia, Italy, Mexico, South Africa, Belgium, Bahrain, Iraq and Malaysia.
The International Kite festival:
The International Kite festival has many names, it is also known as Uttarayan or Makar Sankranti in Gujarat. This festival has been celebrated every year on January 14 since 1989. The kite flying is led from Ahmedabad. It is regarded as one of the biggest festivals of Gujarat. It is believed that this is the day when the Gods wake up from their long sleep and the gates of heaven open. First rocket launch to space from UK soil to take place on January 09.
Find More Miscellaneous News Here