The Indian Renewable Energy Development Agency (IREDA) has joined forces with Bank of Maharashtra (BoM) by signing a Memorandum of Understanding (MoU) under the administrative control of the Ministry of New and Renewable Energy in the field of renewable energy sector.
Advancing Renewable Energy Initiatives
The central objective of this collaboration is to promote and facilitate co-lending and loan syndication for a diverse spectrum of renewable energy projects across India. This initiative aligns with India's ambitious goals of reducing carbon emissions and transitioning to clean and sustainable energy sources.
The MoU Signing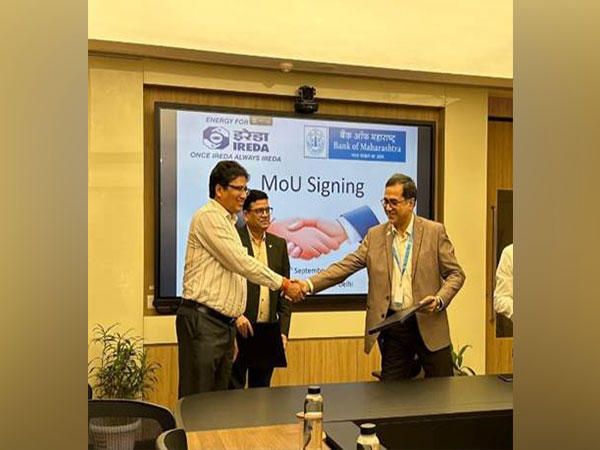 The MoU was formally inked by Bharat Singh Rajput, General Manager (Technical Services) at IREDA, and Rajesh Singh, General Manager (Retail & MSME Credit) at Bank of Maharashtra. The signing ceremony took place at IREDA's Business Centre in New Delhi, marking a crucial milestone in the partnership.
A Unified Effort for a Sustainable Future
This memorandum of understanding with Bank of Maharashtra marks another crucial milestone in the continuous endeavor to encourage the adoption of renewable energy in India. Its primary objective is to establish a resilient financial infrastructure for green energy projects, ensuring greater accessibility to clean and sustainable energy solutions for diverse communities and industries.
This collaboration emphasizes the significance of financial institutions and government bodies working in tandem, aligning with India's ambitious aim to attain Net Zero emissions by 2070, as directed by the Hon'ble Prime Minister.
Comprehensive Services for Renewable Energy Projects
The MoU encompasses several key services to support renewable energy projects:
Co-lending and Co-origination Support: IREDA and Bank of Maharashtra will collaborate to provide financial support for all renewable energy projects. This partnership aims to streamline the lending process and ensure efficient access to funds.
Facilitating Loan Syndication and Underwriting: The collaboration will facilitate loan syndication and underwriting, making it easier for renewable energy projects to secure the necessary financing.
Management of Trust & Retention Account: IREDA borrowers will benefit from efficient management of Trust & Retention Accounts, enhancing transparency and accountability in financial transactions.
Stable Fixed Interest Rates: The partnership is committed to establishing stable fixed interest rates spanning a period of 3-4 years for IREDA borrowings. This stability is essential for the long-term viability of renewable energy projects.
Addressing Funding Needs in Renewable Energy
IREDA recognizes the substantial funding requirements of the renewable energy sector, including emerging technologies such as green hydrogen and offshore wind. To address these needs, IREDA has proactively signed MoUs with public sector banks and financial institutions to collaborate on co-lending for big-ticket-size projects. This collaborative approach is essential in realizing India's vision of a sustainable and green future.
Key takeaways for competitive examinations
Chairman and Managing Director of IREDA: Pradip Kumar Das
Find More News Related to Agreements