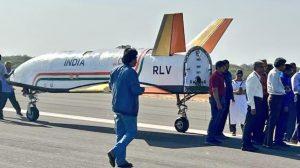 Reusable Launch Vehicle Autonomous Landing Mission (RLV LEX)
ISRO has accomplished the Reusable Launch Vehicle Autonomous Landing Mission (RLV LEX) at the Aeronautical Test Range (ATR) in Chitradurga, Karnataka. A Chinook helicopter of the Indian Air Force carried the RLV as an underslung load and flew it to an altitude of 4.5 km. Once the predetermined pillbox parameters were reached, the RLV was autonomously released mid-air, 4.6 km downrange. The RLV then successfully executed approach and landing maneuvers using the Integrated Navigation, Guidance & control system and autonomously landed on the ATR air strip. This achievement marks the successful autonomous landing of a space vehicle by ISRO.
Buy Prime Test Series for all Banking, SSC, Insurance & other exams
The autonomous landing carried out by ISRO was done under conditions that simulate the landing of a space re-entry vehicle, with the vehicle performing a precise landing from the same return path as if it were arriving from space. The landing achieved precise parameters such as ground relative velocity, the sink rate of landing gears, and precise body rates, all of which would be experienced by an orbital re-entry space vehicle in its return path. The success of the RLV LEX mission depended on various cutting-edge technologies, including accurate navigation hardware and software, a pseudolite system, a Ka-band radar altimeter, a NavIC receiver, an indigenous landing gear, aerofoil honeycomb fins, and a brake parachute system.
ISRO conducted a groundbreaking test where a winged vehicle, RLV, was carried by a helicopter to an altitude of 4.5 km and released for an autonomous landing on a runway. The RLV is essentially a space plane with a low lift to drag ratio that requires a high glide angle approach and a landing speed of 350 kmph. The mission, called LEX, used several indigenous systems developed by ISRO, including localized navigation systems, instrumentation, and sensor systems. The landing site was mapped with a Ka-band Radar Altimeter, and wind tunnel tests and CFD simulations were conducted to characterize the vehicle's aerodynamics. The use of contemporary technologies developed for RLV LEX makes other operational launch vehicles of ISRO more cost-effective.
Important Takeaways for All Competitive Exams:
ISRO Chairman: S. Somanath;
ISRO foundation Date: 15th August, 1969;
ISRO Founder: Dr. Vikram Sarabhai.
You may also read this: