Japan's eminent hospitality group Hotel Management International Company Limited (HMI) will be opening 30 new properties across Uttar Pradesh. The company has signed an MoU with the UP government to invest Rs 7200 crore at the UP Global Investors Summit.
Buy Prime Test Series for all Banking, SSC, Insurance & other exams
More About The HMI's Investment in UP:
Addressing a session on Japan as a partner to UP's growth, Takamoto Yokoyama, Director, Public Relations, HMI Group, which operates more than 60 hotels in major cities of Japan, said that  "After the development of Shrikashi Vishwanath Dham Corridor in Varanasi, a large number of tourists are coming here. This is a favourable opportunity for us to invest in this state as the hospitality industry is growing big.
The industrial policies of UP are encouraging to the HMI group. The Group will expand its hotel chain in 30 major places including Agra, Varanasi and Ayodhya." He further added that this will also create over 10,000 jobs in the state.
Special Strategic and Global Partnership between Japan and India:
The day two saw an important session on 'Implementation of Special Strategic and Global Partnership between Japan and India in Uttar Pradesh' in Dadhichi Auditorium. Advisor (Japan) in the Ministry of External Affairs, Government of India, Prof. Ashok Chawla made a comparative discussion of the political, strategic, economic and cultural relations between India and Japan in different periods from 2000 to 2014 and 2014 to 2022.
He said that in the year 2015, the then Japanese Prime Minister Shinzo Abe visited India and in 2016 Prime Minister Modi went to Japan. Shinzo Abe came to Ahmedabad in 2017 and an action plan was made regarding high speed rail, then in 2018 Prime Minister Modi went to Japan again. The frequent visits of these top leaders have created deep trust between the two countries, whose positive impact has also been seen on bilateral economic relations.
There has been an unprecedented increase in investment in sectors like health, energy, logistics, hotel, artificial intelligence, textile, steel, real estate, leather etc.
Chawla further added that Japan Industrial Township is under development at Greater Noida.
Japan's Growing Investment In UP: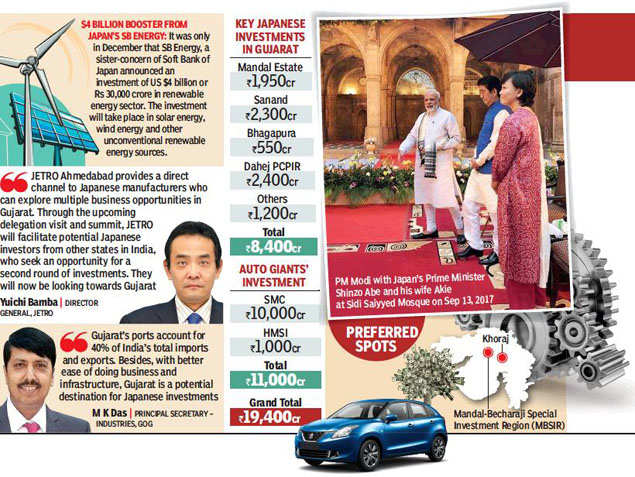 In this special session of partner country Japan, Japanese investors investing in Uttar Pradesh also shared their experiences. Tomoki Ito, CEO (Representative Director) of One World Corporation, working in the Waste Management Sector, Ajay Kumar, CEO of OMC Power, a company in the renewable energy sector, Narendra Upadhyay, President of NPI Company Limited, Tokyo, Director of Veena Enterprises, a company in the solar energy sector. The investors also gave information about their company's investments in Uttar Pradesh, operational plants, its clients, turnover methodology and future strategy.
Also Read: Kerala to Setup Green Hydrogen Hubs Over Next 2 Years