Jio Financial Services Ltd (JFS) of the Reliance Industries Ltd Group and global asset manager BlackRock have joined forces to create a groundbreaking 50:50 joint venture called "Jio BlackRock." This strategic partnership aims to provide millions of Indian investors with access to affordable and innovative investment solutions through technology-enabled platforms.
The joint venture plans to invest $150 million each, positioning itself as a significant player in India's thriving mutual fund industry, which is currently dominated by SBI Mutual Fund, ICICI Prudential Mutual Fund, and HDFC Mutual Fund.
Disrupting the Indian Mutual Fund Market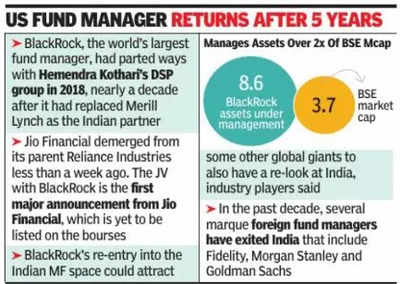 The Jio BlackRock joint venture has the potential to disrupt the Indian mutual fund market significantly. By combining Jio's extensive technical know-how and rapidly expanding customer base with BlackRock's proven global track record as a leading fund house, the partnership is poised to bring about a transformation in the industry.
Strategic Objectives and Timeline
Jio BlackRock aims to provide tech-enabled access to affordable and innovative investment solutions, catering to the diverse needs of Indian investors. The joint venture's management team will work to secure regulatory and statutory approvals, and they expect the operational launch to take approximately 12 months.
Key Contributions of Each Partner
BlackRock: As a global investment management powerhouse, BlackRock brings deep expertise and talent in investment and risk management. Additionally, it offers product excellence and access to cutting-edge technology, efficient operations, scale, and extensive intellectual capital in various markets worldwide.

Jio Financial: Leveraging its local market knowledge and robust digital infrastructure capabilities, Jio Financial will play a crucial role in executing the joint venture's digital delivery of investment products. The company's expanding customer base further enhances the partnership's reach and impact.
Fostering Innovation and Access
Jio BlackRock aims to empower a broad spectrum of investors in India with access to previously unavailable or costly investment solutions. By utilizing advanced technology, the joint venture seeks to simplify the investment process and offer a diverse range of investment options tailored to meet the unique requirements of Indian investors.
 Find More News Related to Banking