The Cabinet Committee on Economic Affairs, under the leadership of Prime Minister Shri Narendra Modi, has been given its nod for the continuation of the umbrella scheme "Atmosphere & Climate Research-Modelling Observing Systems & Services (ACROSS)" for the next finance cycle of five years (2021-2026).
The Ministry of Earth Sciences (MoES) is implementing the ACROSS scheme through its units, namely India Meteorological Department (IMD), National Centre for Medium Range Weather Forecasting (NCMRWF), Indian Institute of Tropical Meteorology (IITM), and Indian National Centre for Ocean Information Services (INCOIS).
Objectives and Sub-Schemes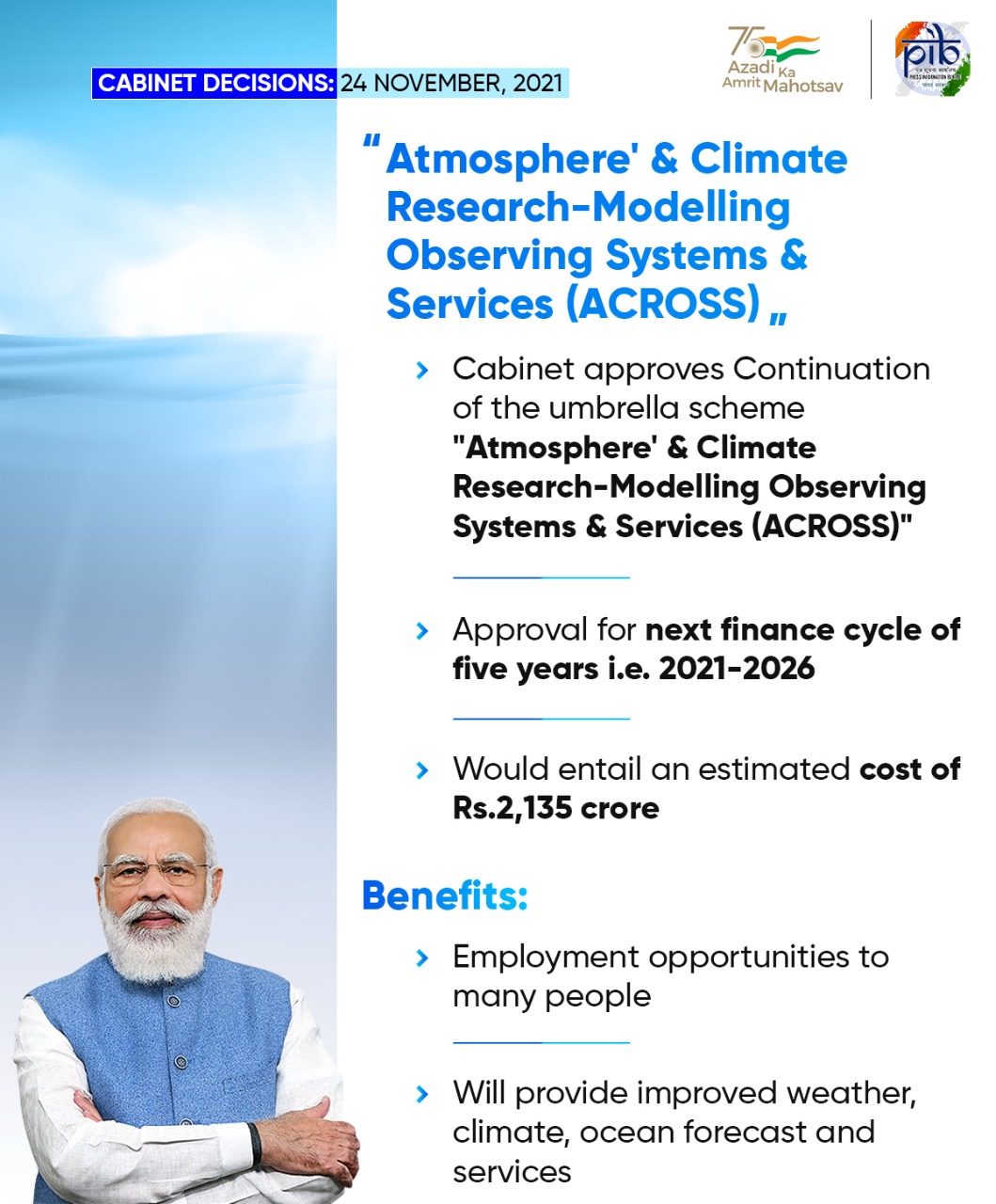 The ACROSS scheme encompasses various atmospheric science programs under the Ministry of Earth Sciences, focusing on weather and climate services.
It consists of eight sub-schemes, which will be implemented in an integrated manner through IMD, IITM, NCMRWF, and INCOIS.
Each institute has been assigned specific roles for carrying out tasks under the following sub-schemes:
Commissioning of Polarimetric Doppler Weather Radars (DWRs) – IMD:
This sub-scheme aims to commission advanced weather radars for better weather monitoring.
Upgradation of Forecast System – IMD:
It focuses on enhancing the weather forecast system to provide more accurate and timely predictions.
Weather & Climate Services – IMD:
This sub-scheme aims to deliver improved weather and climate services to end-users.
Atmospheric Observations Network – IMD:
It involves the establishment of an extensive atmospheric observation network for comprehensive data collection.
Numerical Modelling of Weather and Climate – NCMRWF:
This sub-scheme focuses on developing advanced numerical models for weather and climate predictions.
Monsoon Mission III – IITM/NCMRWF/INCOIS/IMD:
The goal is to study and understand the monsoon patterns and improve monsoon forecasts.
Monsoon Convection, Clouds, and Climate Change (MC4) – IITM/NCMRWF/IMD:
This sub-scheme aims to study monsoon-related phenomena and climate change implications.
High-Performance Computing System (HPCS) – IITM/NCMRWF:
It involves the establishment of high-performance computing systems to process and analyze vast amounts of data.
Impact and Employment Generation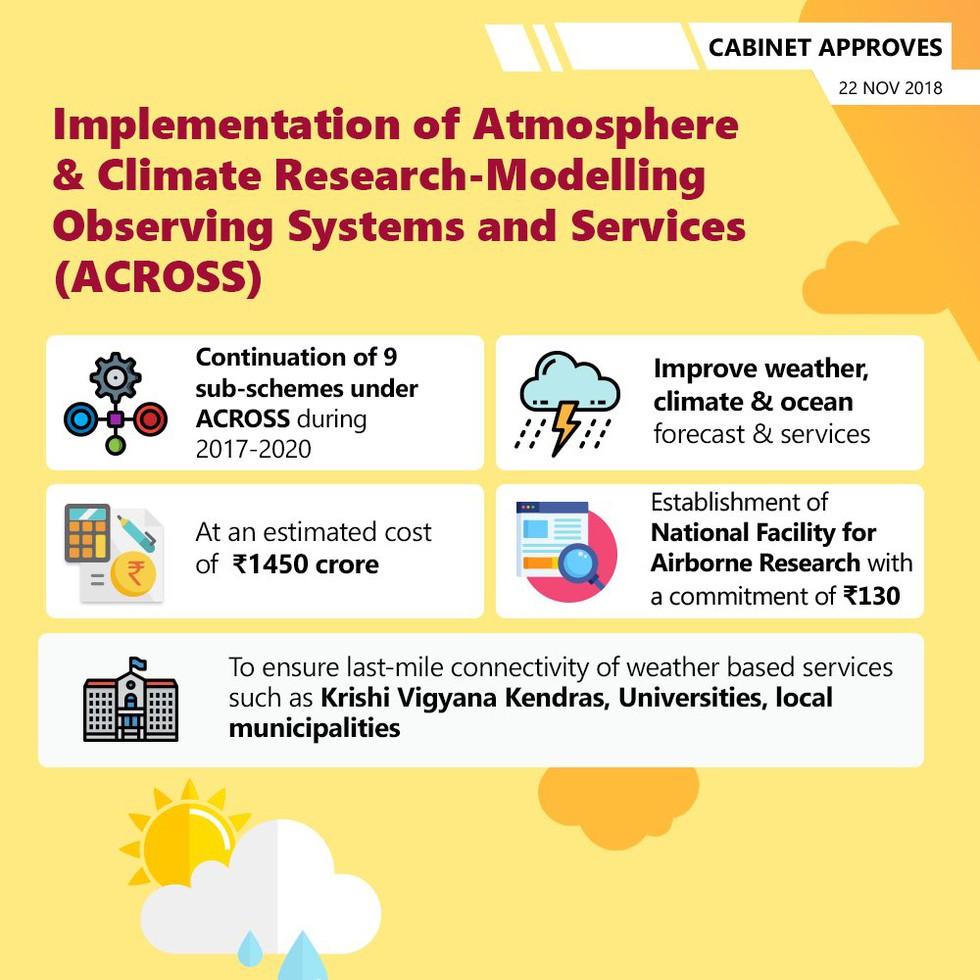 The ACROSS scheme will lead to significant improvements in weather, climate, and ocean forecasts, benefiting various sectors such as agriculture, aviation, environment, water management, and tourism, among others.
The delivery of these services will require a substantial workforce, thereby generating employment opportunities for many individuals.
Background and Rationale
The Ministry of Earth Sciences (MoES) is tasked with observing and researching weather, climate, and ocean parameters, with the aim of enhancing weather and climate forecasting capabilities and addressing climate change-related challenges.
The increased occurrence of extreme weather events due to global climate change has led to the formulation of various target-oriented programs, which are now integrated under the umbrella scheme "ACROSS."
The collaboration of IMD, IITM, NCMRWF, and INCOIS ensures a comprehensive approach to address weather and climate-related phenomena for societal, economic, and environmental benefits.