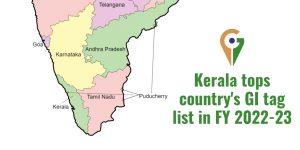 Kerala tops GI tag list in FY 2022-23
According to data shared by the GI Registry, Kerala has secured the highest number of Geographical Indication (GI) tags for products among all states in India in FY23. Several products from Kerala, including Attappady Aattukombu Avara (beans), Attappady Thuvara (red gram), Onattukara Ellu (sesame), Kanthaloor Vattavada Veluthuli (garlic), and Kodungallur Pottuvellari (snap melon) have been recognized with the GI tag.
Buy Prime Test Series for all Banking, SSC, Insurance & other exams
In addition to the six products from Kerala, the Geographical Indication (GI) Registry selected Mithila Makhana (aquatic fox nut) from Bihar and Alibag white onion from Maharashtra for the GI recognition tag. Tandur Redgram from Telangana, the local variety of pea, Ladakh Raktsey Karpo Apricot from Ladakh, and Gamosa handicrafts from Assam were also selected for the honour.
About the Geographical Indication (GI) tags recognition 2022-23
The Geographical Indication (GI) recognition is given to products that are produced in a particular location. In the period between April 2022 and March 2023, a total of 12 products were selected for GI recognition, including two from overseas. Brandy De Jerez from Spain and Provolone Valpadana from Italy received GI recognition. In the previous fiscal year (FY22), 50 products were selected for GI recognition, with Uttar Pradesh having the highest number of GI tags (seven), followed by Uttarakhand with six. Uttar Pradesh had handcraft products like Chunar Glaze Pottery, Banaras Zardozi, Mirzapur Pital Bartan, Banaras Wood Carving, Banaras Hand Block Print, Rataul Mango, and Mau saree selected for GI recognition, while Uttarakhand had Aipan, Munsyari Razma, Uttarakhand handcraft Ringal Craft, Tamta from Uttarakhand, Thulma (Handicraft), and Kumaon Chyura Oil selected. The Kanniyakumari Clove, wood carving from Kallakurichi, Karuppur Kalamkari paintings, and Narsinghapettai Nagaswaram were some of the products selected for GI recognition from Tamil Nadu in the previous fiscal year.
You may also read this:
Himachal Pradesh's Kangra tea gets European GI tag