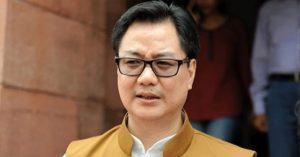 Sports Minister Kiren Rijiju has announced Khelo India winter games 2020 which will be held in the Union Territory of Ladakh later this month followed by a similar event in the Union Territory of Jammu and Kashmir in March.
The Khelo India Ladakh Winter Games will feature an open ice hockey championship, figure skating and speed skating and the competition will be conducted at the block, district and UT levels with the expected participation of about 1700 athletes.
The competitions of the Khelo India J&K Winter Games will be held at Kongdori, Gulmarg in four age categories for both boys and girls. Athletes in the age categories of 19-21 years, 17-18 years, 15-16 years and 13-14 years can compete in alpine skiing, cross country skiing, snowboarding and snowshoeing.