Kosovo Serbs who have been blocking roads in northern Kosovo for 19 days have agreed to start removing barricades, bowing to calls by the United States and the European Union to defuse tensions. Serbian President Aleksandar Vucic, who met Serbs from northern Kosovo in the Serbian town of Raska, said the process of removing barricades will begin.
Bank Maha Pack includes Live Batches, Test Series, Video Lectures & eBooks
What More Is On The Cards:
The United States and European Union, which are mediating talks between Belgrade and Pristina to resolve outstanding bilateral issues, have guaranteed that none of the Serbs who set up barricades will be prosecuted. Removal of the barricades is expected to defuse ongoing tensions between Belgrade and Pristina.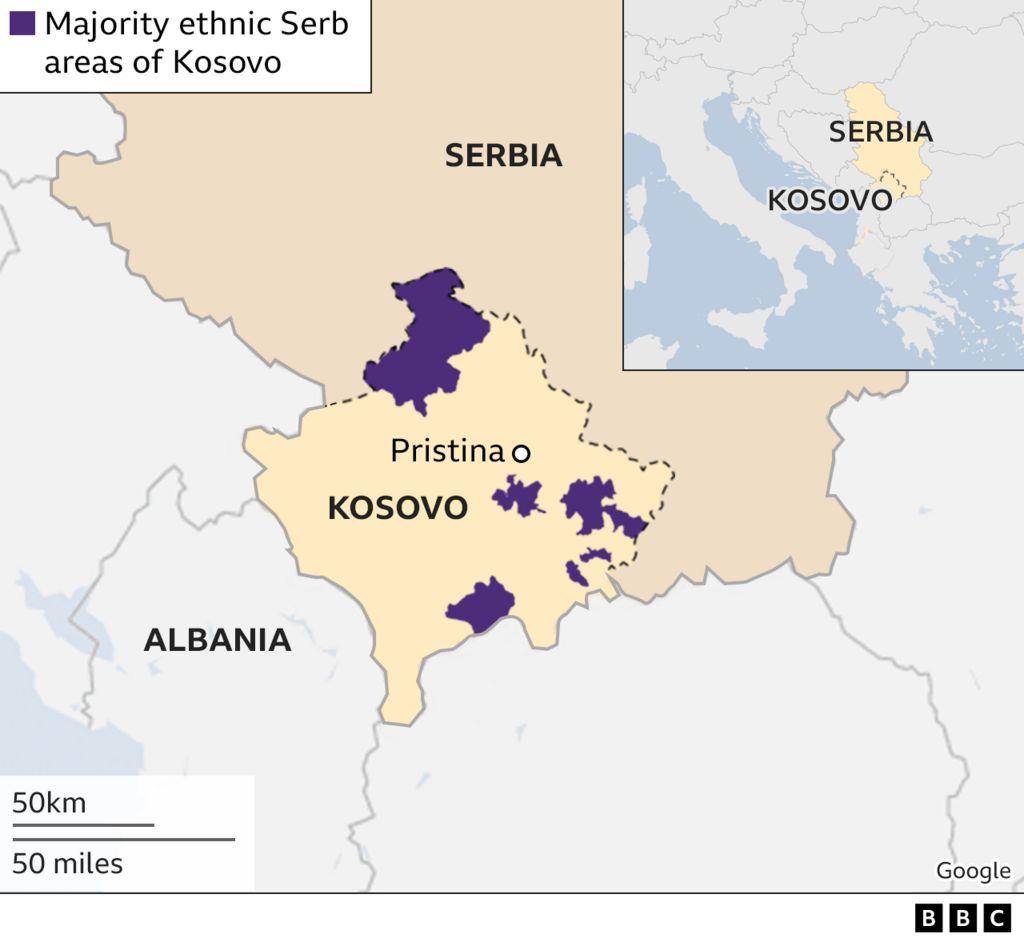 Where is Kosovo:
Kosovo is a small, landlocked country in the Balkans, bordering Albania, North Macedonia, Montenegro and Serbia.
Many Serbs consider it the birthplace of their nation.
But of the 1.8 million people living in Kosovo, 92% are Albanian  Muslims and only 6% Serbian. The rest are Bosniaks, Gorans, Turks and Roma.
How The Tensions Escalate:
Serbia had put its army on the highest combat alert following days of escalating tensions between Belgrade and Pristina. Serbia's defence ministry said that given the latest events in the region and Belgrade's belief that Kosovo was preparing to attack Serbs and forcefully remove the barricades, Vucic had ordered Serbia's army and police to be put on the highest alert.
Why are there tensions:
Kosovo won independence from Serbia in 2008, almost a decade after a guerrilla uprising against Belgrade's repressive rule. Serbia, however, still considers Kosovo to be an integral part of its territory and rejects suggestions it is whipping up tensions and conflict within its neighbour's borders. Albanian-majority Kosovo declared independence with the backing of the West, following a 1998-99 war in which NATO intervened to protect ethnic Albanians.
Around 50,000 ethnic Serbs living in northern Kosovo refuse to recognise the government in Pristina or the status of Kosovo as a separate country. They have the support of many Serbs in Serbia and its government.
What do the Serbs of Kosovo want:
Serbs in Kosovo want to create an association of majority-Serb municipalities that would operate with greater autonomy. Serbia and Kosovo have made little progress on this and other issues since committing in 2013 to the EU-sponsored dialogue.
What is the role of Nato, the EU and Russia:
For more than 20 years, Kosovo has been a source of tension between the West, which backed its independence, and Russia, which supports Serbia in its efforts to block Kosovo's membership of global organisations, including the United Nations.
NATO has about 3,700 troops stationed in Kosovo to maintain the peace. The alliance said it would intervene in line with its mandate if stability in the area were jeopardized. The European Union Rule of Law Mission in Kosovo (EULEX), which arrived in 2008, still has around 200 special police officers there.
Russia, for its part, denied the Kosovo interior minister's claims that Russia was influencing Serbia to destabilise Kosovo, saying that Serbia was defending the rights of ethnic Serbs.
India's Stand:
India, Brazil, China, Russia, and Mexico among others have not recognised the territory. India has maintained that Kosovo's declaration of independence contradicts UNSC Resolution 1244 which sought to establish an "interim administration for Kosovo" to solve the political crisis there at the time.