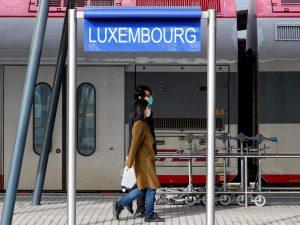 Luxembourg, the 7th smallest country in Europe, has been made public transport free to reduce traffic pressure on the road. It becomes the 1st country in the world to make public transport free. It abolished fares for trains, trams and buses. The main reason is to have a better quality of mobility, and then the side reason is clearly also environmental issues.
All standard-class journeys on public transport in the tiny and wealthy European country are now free of charge, compared to an annual pass worth 440 euros ($485) before. Travellers can still pay for first-class, at a cost of 660 euros a year.
Luxembourg has just over 600,000 inhabitants, but 214,000 more travel in for work every day from neighbouring Germany, Belgium and France, causing heavy traffic jams as the majority of workers commute by car. More than half of Luxembourg's greenhouse gas emissions come from transport. It is expected that more than 65% of people in Luxembourg use their car to go to work in 2025, down from 73% in 2017.
Important takeaways for all competitive exams:
Prime Minister of Luxembourg: Xavier Bettel.
Capital of Luxembourg: Luxembourg City.
The currency of Luxembourg: Euro.