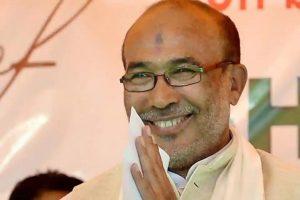 Manipur Chief Minister N. Biren Singh has announced the biggest ever scheme for the welfare of sportspersons and artists of the State. 'Chief Minister's Akhannaba Sanaroising gi Tengbang (CMAST)' and Chief Minister Artist Sing gi Tengbang (CMAT)' scheme would provide benefits to thousands of sportspersons and artistes of the State who have brought laurels to the State and Country.
'Chief Minister's Akhannaba Sanaroising gi Tengbang (CMAST)'
Under the CMAST Scheme, suitable employment in government services is going to be provided to sportspersons, who have won medals in notified disciplines in selected International Sports events. The scheme would also support the sportspersons on purchasing of costly sports items. Also, cash awards for Olympic participants are enhanced to 1 crore, 75 lakh, 50 lakh and 10 lakh rupees for various categories. Sportsperson who have represented in National and International tournaments and are unemployed would tend lifetime pension.
'Chief Minister Artist Sing gi Tengbang (CMAT)'
In the scheme for artists, CMAT is designed with a view to encouraging the artists in different fields and targeted to cover 4000 artistes in a year. The pension will be extended to around 1000 artistes who are 60 years and above. Pensioners include awardees, gurus and non-awardees who have contributed to preserving the tradition, culture and art forms of Manipur. Financial assistance would also be provided for artiste, groups and institutions for participating in international and national festivals.
The CMAT scheme would also extend monetary support to cultural groups or institutions for training and productions in various fields such as theatre, Shumang Leela, dance, music and visual arts. The scheme would provide financial assistance to award winners in National competitions and festivals. Padma awardees, National Akademi awardees such as Sangeet Natak Akademi, Sahitya Akademi and Lalit Kala Akademi awardees, State Kala Akademi awardees including young awardees will be extended one-time financial support for pursuing their dreams and vision towards preservation and promotion of Manipuri culture successfully.
Important takeaways for all competitive exams:
Governor of Manipur: Najma Heptulla.
Keibul Lamjao National Park is a beautiful place, located in the Bishnupur district of the state of Manipur. The only floating park in the world, located in North East India, and an integral part of Loktak Lake.