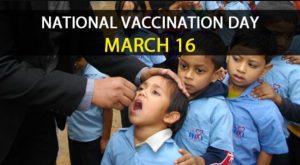 India observes National Vaccination Day every year on 16th March. The day is also known as National Immunization Day. The Government of India celebrates National Vaccination Day every year to convey the importance of vaccination to the people of the country. In the year 1995, the first dose of an oral vaccine against polio was given in India. India has been observing the Pulse Polio Programme since 1995. The prime purpose behind the celebration of National Vaccination Day is to make all people aware of arming against polio and eradicating it completely from the world.
Highlights 
On 27 March 2014, India was certified as a polio-free country along with 11 other countries of the South-East Asia Region of the World Health Organisation (WHO). These countries were Bangladesh, Bhutan, Indonesia, Maldives, Myanmar, Democratic People's Republic of Korea, Nepal, Sri Lanka, Timor-Leste, and Thailand. In India, the last case of polio patients was reported on 13 January 2011.
What is Vaccination?
Vaccination is the most effective method of preventing highly infectious diseases. Extensive immunity due to vaccination is mostly responsible for the worldwide eradication of smallpox and the restraint of diseases such as polio, measles, and tetanus from a large amount of the world. The World Health Organization (WHO) informs that licensed vaccines are currently available to prevent or add to the prevention and control of twenty-five preventable infections.
Important takeaways for all competitive exams:
World Immunization Week 2020 celebrated in the last week of April (24 to 30 April).
The theme of World Immunization Week 2020: VaccinesWork for All.