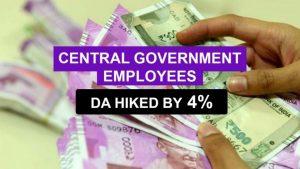 The Union Cabinet chaired by Prime Minister Narendra Modi approved a four per cent hike in dearness allowance (DA) for central government employees and Dearness Relief (DR) to pensioners with effect from January 1, 2020. This is over the existing rate of 17 per cent of the Basic Pay/Pension.
This decision will be beneficial for 48 lakh employees and 65 lakh pensioners; this will benefit 1.13 crore families. Since the decision will be effective from January 1, 2020, central staff will be getting arrears for three months. The increase is in accordance with the accepted formula, which is based on the recommendations of the 7th Central Pay Commission. Apart from central government employees, even central government pensioners and those receiving family pension from the central government will be benefited from this decision.
What is Dearness Allowance?
Dearness allowance is usually received by government employees to compensate for rising inflation. Dearness Allowance is calculated as a percentage of an basic salary to mitigate the impact of inflation on people.