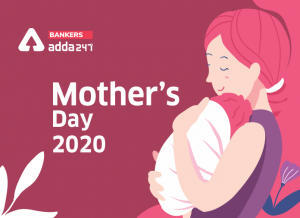 Mother's day is celebrated on every second Sunday of May month and this year, it's falling on 10th May 2020. Mother's Day is widely known to salute the motherhood, to extend the influence of mothers within the society, to extend the maternal bonds to children, etc. Mother, being a protector throughout her life loves her children unconditionally. She plays a special role sort of a teacher, best friend and one's who besides us under all circumstances.
Click Here To Get Test Series For SBI PO 2020
History of Mother's Day:
In 1908, Mother's Day was first celebrated, when Anna Jarvis held a memorial for her mother at St Andrew's Methodist Church in Grafton, West Virginia to honour her mother. In 1905, Her campaign to make Mother's Day a recognized holiday in the United States began, It was the year her mother, Ann Reeves Jarvis died. Anna Jarvis was a peace activist who cared for wounded soldiers on both sides of the American Civil War. In 1914 President Woodrow Wilson declared second Sunday of May as an official holiday in the United States.