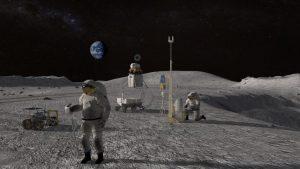 NASA unveils plan to setup Artemis, the first human base camp on Moon's south pole by 2024. NASA is working on the Artemis program that aims to land humans on the moon by 2024. NASA submitted a 13-page report to the National Space Council on 2 April. As per the report, the base camp will demonstrate the US's continued leadership in space and will eventually help them prepare to undertake humanity's first mission to Mars.
Click Here To Get Test Series For SBI PO 2020
The report titled NASA's Plan for Sustained Lunar Exploration and Development offers a summary of how the space agency will accomplish the 2024 moon landing mission. The initial plan is to move to one to two-month stays to learn more about the moon and the universe. It also gives information on what the US would achieve from a long-term presence on the moon and lunar orbit.
Important takeaways for all competitive exams:
The administrator of the National Aeronautics and Space Administration (NASA): Jim Bridenstine.
Headquarters of NASA: Washington D.C., United States.