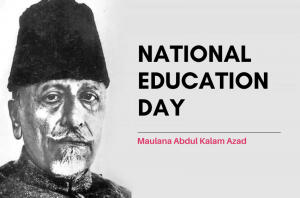 National Education Day 2022:
The National Education Day is observed annually on November 11 in India. In India, National Education Day is celebrated every year on November 11 as it marks the birth anniversary of Maulana Abul Kalam Azad, who was India's first education minister after independence. He was awarded Bharat Ratna posthumously, India's highest civilian honour in 1992.
Buy Prime Test Series for all Banking, SSC, Insurance & other exams
The day is observed to celebrate the work done by Maulana Abul Kalam Azad in the education sector during his tenure as the education minister. In 1920, he was elected as a member of the foundation committee to establish Jamia Millia Islamia at Aligarh in UP. He also assisted in shifting the university campus from Aligarh to New Delhi in 1934. Now, the main gate of the campus is named after him.
National Education Day 2022: Theme
This day is celebrated to acknowledge and honour Maulana Azad's contribution to the country's education system. The theme for National Education Day 2022 is "Changing Course, Transforming Education."
National Education Day 2022: Significance
National Education Day is celebrated to enhance and improvise the quality of education for students in the country. The day also commemorates Azad's contribution to laying the foundation for an independent Indian education system. Azad was also a strong advocate of universal primary education, girls' education, free compulsory education for all children under the age of 14, vocational training, and technical education.
About Maulana Abul Kalam Azad:
Maulana Abul Kalam Azad was born in Mecca, Saudi Arabia in 1888. His mother was an Arab and the daughter of Sheikh Mohammad Zaher Watri and Azad's father, Maulana Khairuddin, was a Bengali Muslim of Afghan origins who came to Arab during the Sepoy Mutiny and proceeded to Mecca and settled there. He came back to Calcutta with his family in 1890 when Abul Kalam was two years old.
Maulana Abul Kalam Azad's contributions in the field of education, nation-building, and institution-building are exemplary.
Abul Kalam Ghulam Muhiyuddin Ahmed bin Khairuddin Al-Hussaini Azad was an Indian independence activist, writer and a senior leader of the Indian National Congress.
After the nation gained independence, he became the first Minister of Education in the Indian government.  He served as the education minister from August 15, 1947 till February 2, 1958, and passed away in Delhi on February 22, 1958.
As the first Indian education minister, Azad's main focus in post-independence India was educating the rural poor and girls. Other key areas where he focused were adult literacy, free and compulsory for all children up to the age of 14, universal primary education, and diversification of secondary education and vocational training.
He also oversaw the establishment of the Department of Education of the University of Delhi, the first Indian Institute of Technology in 1951 and the University Grants Commission in 1953.