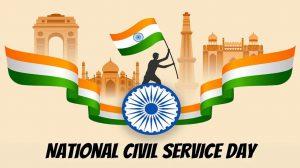 National Civil Services Day 2023
In India, April 21 is celebrated as National Civil Service Day, to recognize and appreciate the vital role played by civil servants in the advancement and betterment of the nation. This day offers a chance to express gratitude towards the contributions made by civil servants to society. The prime minister of the country presents awards of excellence on this occasion, to encourage civil servants to continue their efforts towards serving the public effectively. Civil Services Day is an occasion for civil servants to rededicate themselves to the cause of citizens and renew their commitments and excellence in work.
Buy Prime Test Series for all Banking, SSC, Insurance & other exams
National Civil Service Day 2023: Theme
The theme of this year's Civil Service Day is very apt- Viksit Bharat (विकसित भारत) aimed at 'Empowering Citizens and Reaching the Last Mile'. The theme underscores the Government's resolve and firm commitment to achieving a more equitable and prosperous India for all its citizens by engaging in inclusive growth.
National Civil Service Day 2023: Significance
National Civil Service Day is a time to appreciate the hard work and loyalty of civil servants towards serving the country. It is a day to acknowledge their relentless endeavors in executing policies and initiatives that have a constructive influence on the community. Furthermore, it is a chance to value their contribution in upholding law and order, advocating for social equity and fostering good governance.
National Civil Service Day: History
The inaugural National Civil Service Day was celebrated on April 21, 2006, at Vigyan Bhawan in New Delhi. This particular date was chosen to honour the occasion in 1947 when Sardar Vallabhbhai Patel, the first home minister of independent India, addressed Administrative Services Officers' probationers. During his motivational speech, Sardar Vallabhbhai Patel recognised civil servants as the "steel frame of India." National Civil Service Day serves as a platform to appreciate the exceptional services rendered by government workers in the country. On this day, the administration also acknowledges the accomplishments of experienced civil servants and presents medals to select individuals for their contributions towards the development of the nation.
You may also read this:
World Liver Day 2023 Observed globally on 19 April