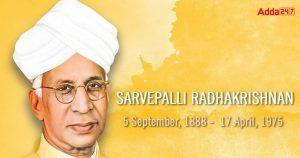 Teachers' Day or Shikshak Divas marks the birthday of the country's first Vice President (1952–1962) who went on to become the second President of India (1962-1967), a scholar, philosopher, Bharat Ratna awardee, Dr Sarvapalli Radhakrishnan. He was born on September 5 in the year 1888. But teachers' day was first observed in the year 1962 on his 77th birthday. He was a teacher who turned out to be a philosopher, scholar and politician. He dedicated his entire life to working towards the importance of education in people's lives.
National Teachers Day 2022: Theme
The theme for this year's teachers' day is 'Leading in crisis, reimaging the future.'
National Teachers' Day 2022: Significance
Teachers Day is one such event to which students and teachers equally look forward. The Day is important for the students as it gives them a chance to understand the efforts put in by their teachers to ensure that they get a proper education. Similarly, teachers also look forward to the Teachers' Day celebration as their efforts get recognised and honoured by students and other agencies as well.
Teachers, like Radhakrishnan, are builders of the nation's future as they ensure their students are armed with proper knowledge and wisdom to lead their lives responsibly. Teachers' Day helps highlight their role, their plight and their rights in our society.
National Teachers' Day: History
When Dr Radhakrishan took office of the second President of India in 1962, his students approached him to seek permission to celebrate September 5 as a special day. Dr Radhakrishnan instead made a request of them to observe September 5 as Teachers' Day, to recognise the contribution of teachers to the society.
Ever since then, September 5 has been celebrated as Teacher's Day across schools, colleges, universities and educational institutions. Students put on performances, dances and host elaborate shows for their most-loved teachers.
National Teachers' Day 2022: Sarvepalli Radhakrishnan
Sarvepalli Radhakrishnan was born in a Telugu-speaking Niyogi Brahmin family, in Tiruttani of Madras district in the erstwhile Madras Presidency (later in Andhra Pradesh till 1960, now in Tiruvallur district of Tamil Nadu since 1960). He was born to Sarvepalli Veeraswami and Sita (Sitamma). His family hails from Sarvepalli village in the Nellore district of Andhra Pradesh.
Awards and Honours:
Radhakrishnan was awarded several high awards during his life, including a knighthood in 1931, the Bharat Ratna, the highest civilian award in India, in 1954, and honorary membership of the British Royal Order of Merit in 1963. He was also one of the founders of Helpage India, a non-profit organisation for the elderly underprivileged in India.
Education:
Radhakrishnan was awarded scholarships throughout his academic life. He joined Voorhees College in Vellore for his high school education. After his F.A. (First of Arts) class, he joined the Madras Christian College (affiliated to the University of Madras) at the age of 16. He graduated from there in 1907, and also finished his Masters at the same college.
The career of Sarvepalli Radhakrishnan:
Sarvepalli Radhakrishnan was an Indian philosopher and politician who served as the 2nd President of India from 1962 to 1967 and the 1st Vice President of India from 1952 to 1962. He was also the 2nd Ambassador of India to the Soviet Union from 1949 to 1952 & 4th Vice-Chancellor of Banaras Hindu University from 1939 to 1948.