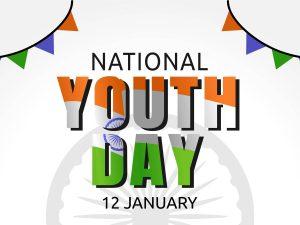 In India, the National Youth Day is celebrated on 12 January annually to commemorate the birth anniversary of Swami Vivekananda. The main aim behind this is to make sure that the students across the country can be encouraged to learn about the life, the ideas and philosophy of Swami Vivekananda and apply them in their lives.
Buy Prime Test Series for all Banking, SSC, Insurance & other exams
In 2022, we are observing the 159th birth anniversary of Swami Vivekanand (12 January 1863). The theme for National Youth Day 2022 is The Theme of 2022 is "It's all in the mind."
History of National Youth Day:
The decision to celebrate Vivekananda's birthday as National Youth Day was taken in 1984, and it was first marked on January 12, 1985.
The government had then said that the philosophy of Swamiji and the ideals for which he lived and worked "could be a great source of inspiration" for the Indian youth.
About Swami Vivekananda:
Swami Vivekananda, born Narendranath Datta on January 12, 1863, was a disciple of Sri 19th-century Indian mystic Ramakrishna Paramhansa. He went on to become a key figure in the introduction of the Indian darsanas (teachings, practices) of Vedanta and Yoga to the Western world and was credited with raising interfaith awareness.
Vivekanand was highly regarded as a major force in the contemporary Hindu reform movements in India and contributed to the concept of nationalism in colonial India.
Famous for his famous speech in Parliament of World's Religions in Chicago, 1893, he focused on channelling the energy of the youth.
As his teachings and practices had a huge influence on the youth, the Government of India in 1984 declared January 12 day as National Youth Day.